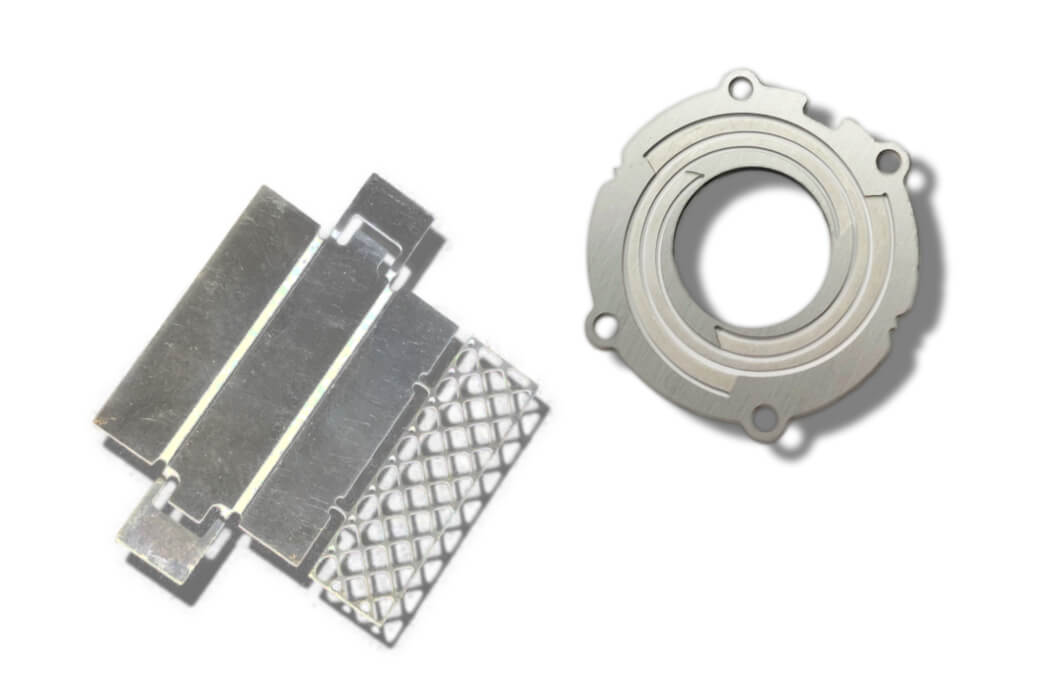 Benefits of Etched Flat Springs
Photochemical etching is the most common method for producing flat springs. This process works by using strong chemicals to remove metal in order to create the desired spiral shape in the spring. 
The benefits of etched flat springs are:
Our chemical etching process will not alter the mechanical properties. 

Etched flat springs are more versatile and maintain their mechanical integrity better than springs created using other methods such as metal stamping. 

Etched springs are economical to produce. The design complexity of the spring does not add cost to the process.

Photochemical etching is a non-heat-inducing process that eliminates burrs, stress abnormalities, distortion, and metal degradation. 
The quality of a flat spring will ultimately dictate its performance, critical in high-stakes environments. Photochemical etching ensures your custom flat springs will perform better and last longer than springs made by other methods.
Our Manufacturing Capabilities
Elcon Precision uses photochemical etching to create custom flat springs that meet your specifications. We use in-house cutting-edge technology that includes:
Chemcut etchers

Digital Direct Imaging System
This equipment makes it possible for us to turn your specifications into high-performance flat springs. On top of that, we're ISO-certified and have plenty of additional certifications that prove our expertise in delivering exceptional products. 
Although stainless and carbon steel are the most common materials for flat springs, Elcon can also etch the following materials and alloys:
Aluminum

Brass

Beryllium copper

Nickel
As one of the top flat spring manufacturers for over 50 years, we built a reputation for delivering high-quality
precision products for our customers. Whether you want to produce a short run of spring clips or fulfill a larger order, we have you covered.
Connect With Elcon Precision for Custom Spring Solutions
If you're not sure your design can work, bring it to Elcon—we're here to find out. If you're ready to begin, submit your idea today. Otherwise, request a quote to give our team more information about your product and receive pricing information.