Teamwork is a core value at Elcon Precision.  We work closely with our customers, suppliers, associate companies, universities, and trade groups every day.  Developing and optimizing precision advanced material products is a very challenging endeavor.   In comparison, lower tech manufacturers require just a fraction of the human capital that material science companies do, particularly when it comes to employing specialized talent and acquiring data and computational capabilities. In addition to this, experience with working for a few materials science startup companies has taught us that investments in safety, EHS compliance, energy, and equipment & facilities costs are equally important.  At Elcon Precision, we recognize that developing materials science products is a big challenge for many companies.  To accelerate product development, we collaborate with universities, our sister companies, and local startups to help create cost effective development strategies.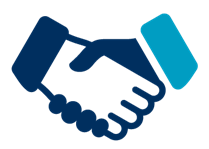 We strive to partner with each of our stakeholders – customers, employees, suppliers, peer companies, investors, and communities.
In creating these partnerships, we aim to:
1. Guarantee that a custom solution succeeds for our client
Through partnerships with our customers, we ensure clients are involved throughout the project and that we have done everything to make their applications are successful.
Our ideal projects are ones in which customers engage us in the design and development stage. A perfect brazed assembly requires all the parts to have specific dimensions, tolerances, and material properties. Once we know of the application's requirements, our manufacturing team will help design the assembly part so that all customer requirements are met.
We work only with approved vendors and oftentimes will use companies in a customer's supply chain. We audit all key suppliers and provide annual scorecards to ensure quality per ISO9001 and AS9100D requirements.
One such partnership that we have established over the years is with a medical oncology treatment company. For two years, our team worked closely with their engineers to improve an existing electron beam gun brazed assembly. At each development stage, our team advised on materials best suited for their environment, tolerances to guarantee a hermetic braze, and high-quality vendors for key components. This project required improving the robustness of a critical high voltage assembly which is the core of the treatment machine's function. The challenge lie in building sub-assemblies that could be tested and modeled using 3D FEA. After months of testing and building various configurations, the project was completed and transitioned to the new revision.  
2. Fill in your supply chain gaps
Elcon is owned by a private investment company called The Partner Companies. It is a portfolio of small to medium U.S. based manufacturers offering specialized fabrication, optics components and assemblies, and precision machining. They deliver exceptional products and provide related services for OEMs. Not only are these companies leaders in their respective fields, but their customers are well-established leaders in fields like aerospace, medical, automotive, and consumer electronics.

Some of our partner companies have been in business for over fifty years, and many are ITAR-registered, ISO 9001-certified, and or AS9100D-certified. Where Elcon can't offer a service, our sister companies will fill in the gaps and work together to create the best solution for your project.
3. Ensure quality control you can trust, and keep costs low
Because many of the components and assemblies we produce are designed for critical applications, the material we source must meet quality standards established by Elcon and by our customers. All our selected vendors and suppliers must undergo a vetting process before purchase approval. For example, raw ceramic components from new suppliers will undergo inspection, dye check, our metallization and sintering process, and metallization push cup tests to make sure they satisfy required adhesion strengths.
Close relationships with our key suppliers help us meet customer specifications such as quality certifications, material compositions, and source inspection, while keeping costs low.
4. Improve our knowledge and our processes
Elcon is always pursuing excellence and looking for ways to learn. Two organizations that we partner with are universities and trade groups.
The University of California, Davis, is one university that we have strong ties with, as a few of our employees are alumni. Tim Dyer, Elcon's president, is on the advisory board for the Department of Materials Science and Engineering, where he frequently contributes to discussions about how classroom knowledge has practical applications in industry. Elcon has offered many research project opportunities for UC Davis undergraduates, particularly Dr. Subhash Risbud's EMS 188 class. In Spring of 2021, two groups helped us investigate nucleation defects on calcia-containing alumina and molybdenum ductility in hemispherical grids.  Partnering with these teams of brilliant students demonstrated that using skills and expertise from both universities and companies collaboratively can improve materials processing performance. (Read more about the nucleation defect investigation HERE)
We are always looking to attract and hire talented undergraduates and graduates, so we regularly partner with California Polytechnic State University and San Jose State University to offer internships and support class projects. A senior industrial engineering class from Cal Poly helped Elcon optimize the efficiency of our stockroom and Materials Management team by performing a detailed analysis of the room and then suggesting layout changes to improve communications and reduce wasted time. We measured a remarkable improvement in efficiency and saw a happier stockroom team after making the recommended changes.
To improve our knowledge base and stay relevant in the industry, we are members of several trade groups, including the Photo Chemical Machining Institute (PCMI), American Welding Society (AWS), American Ceramics Society (ACerS), Silicon Valley Small Manufacturers Group, Explore the Space, and the Institute of Electrical and Electronics Engineers (IEE). Within the past two years, we have participated in numerous webinars, symposiums, and forums, on the topics of advanced materials manufacturing, challenges within small manufacturing businesses, and building advanced refractory metal structures via additive and subtractive hybrid manufacturing processes.

5. Empower technological advancements to better human lives
One of the values we embrace is to ensure success in critical applications that directly contribute to the preservation and betterment of human life, so we provide support for many materials science-based startups with the same vision. We have worked with a combination of large and small startup companies like KeraCel, Joby, Frore, Nano Hydrophobics, Enovix, Pulse Bio, and Quantumscape.
Some materials science products, like lithium-ion batteries, may take months of testing to demonstrate feasibility. These startup companies burn lots of cash supporting high infrastructure costs while they test thousands of samples to prove their product works.  Many companies never make it through demonstration and funding timing gaps, and for some product markets, like biomedical devices, it could be years for a product to become approved by their industry. 
Elcon provides R&D space to Space Foundry, a NASA Ames Research Center spinoff developing plasma jet printing technology for 3D printed electronics applications. They have been funded by various programs at NASA and have installed their printers at various national labs including NASA, Sandia National Lab and Idaho National lab as well as Elcon Precision and several Department of Defense contractors.
Advancing materials processing and manufacturing technologies are core to Elcon Precision. Space Foundry's direct write plasma jet printing technology is very promising with unique technology and market differentiation. Realizing the commercial potential of this technology and the founding team's commitment, Elcon Precision has invested in them by providing a dedicated lab space for four years with access to our advanced thin film and MEMS characterization equipment/metrology.
Space Foundry is currently working on additive manufacturing of conformal antenna using meta materials on a range of flexible and contoured surfaces. This is of very high interest to Elcon Precision, and we are committed to advancing adoption of this technology for 3D printed electronics. Space Foundry's application development using its core plasma jet printing technology aligns with our vision to be a premier supplier of radio frequency and space telecom related products.
Whether it be finding an engineered solution, advancing the materials science industry, or working together to make your project a reality, Elcon Precision is ready to partner with you today!